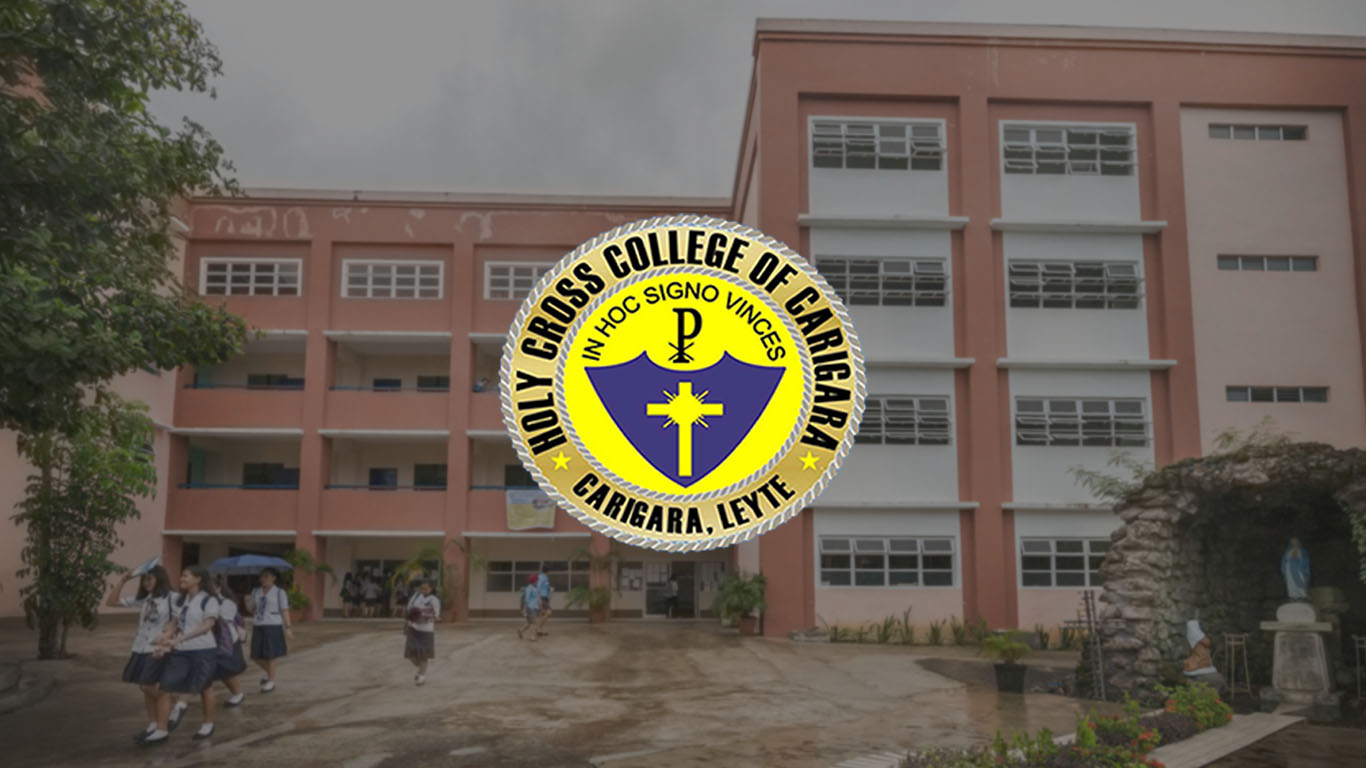 Get to Know the History of HCCC
Laying the Foundation of HCA Heritage:
In 1945, after the 2nd World War, Carigara was significantly comprised of devoted Catholic parishioners who were passionately seeking to succeed in getting quality life through education.
Given this perspective, Irish Catholic Chaplain Colonel Walsh from the American Allied Forces was inspired to build a Catholic high school for Carigara. This dream was shared to a friend Captain Briccio Aguilos, a town resident who paved the way to lobby for its realization before the Palo Diocese leadership.
Holy Cross Academy was conceived, notwithstanding the 1-year existence of the Liberation Memorial School built by the Protestant Chaplains on October 20, 1944.
On July 2, 1945, Holy Cross Academy came into being after a series of set-backs chronologically reminisced as follows:
Date
Status
Founding Proponent(s)
Approving Authority
1945 April 22
Building of a Catholic High School Concept
Fidencio Porral, Sr.
Msgr Alberto Almarines, Carigara Parish Priest
1945 April 29
1st Post War Meeting of Carigara Catholic Action was held to discuss the establishment of Carigara High School
Fidencio Porral, Sr.
Bishop Manuel Mascarinas, Diocese of Palo had reservations of its financial viability
1945 May 13
Delegation met with the Bishop of Palo Diocese and presented the Physical and Financial Plans of the School;

Protestant Liberation Memorial School was already open for enrolment

Captain Briccio Aguilos

Emilia Urbano

Leonica Acerden

Fidencio Porral, Sr

Bishop Manuel Mascarinas, Diocese of Palo, reconsidered, approved and supported financially the opening of the Catholic High School
The Pioneering Leaders:
Significantly, Holy Cross Academy grew in leaps and bounds through the faithful dedication and unfaltering service of the Benedictine handmaids of the Lord for 26 years (1945-1972) who patiently sow the seeds that benefited thousands of lives whose academic and spiritual foundation were honed by this great institution:
Date

Milestones

Administrators

Religious Organization

1945 July 2

Parish convent was used as temporary classrooms

Convent Building fully renovated in less than 2-month time

Fr Antonio Mate had to move to sacristy

Quintin Cumbis supervised the building construction

Administrator

Lay

1945-1949

First School Directress

First Assistant/Secretary

Faculty. New OSB Convent was built

Sr. Editha Wydorski

Sr. Mechtilde Rudolph

Luz Reyes, Rose Urbano, Fidencio Poral, Sr.

Benedictine Sisters, OSB

Lay Faculty

1948

1st batch of high school Graduated. New construction of facilities followed

1949-1952

2nd OSB Directress

Sr. M Hermitis Luedde

OSB

1949

Kindergarten Classes were opened

1950

Normal Courses were offered.

Francisco Hanopol as Department Head

Lay Faculty

1951

The Normal Training Department operated, HCA Graduates bested all other students in Provincial Competitive Examinations

Francisco Javines succeeded

Lay Faculty

1952-1954

Acquired neighbouring lots;

Sr. Eleonora Engelbrecht

OSB

1954-1957

2-story Benedict Building was constructed;

Sr. Florencia Ladurner

OSB

1957-1962

HCA had the BEST Faculty,

Sr. Mechtilde Rudolph

OSB

1962-1963

Best Library, Laboratory

Sr. Bernarda Jovellanos

OSB

1963-1969

serving the community, the citizens and students between

Sr. M Asteria Enzensperger

OSB

1969-1970

Tacloban and Ormoc City

Sr. Louis Lopez

OSB

1970-1972

under the OSB nuns

Sr. Visitacion Arnaldo

OSB
The Challenging Journey:
On February 17, 1972, HCA burned into ashes.
The Palo Diocese through the leadership of Bishop Manuel Salvador, then assigned Fr. Filomeno Bactol (HCA Alumnus) to rebuild the school from its ruins.
Remarkably, Holy Cross Academy transcended the challenge and waded through. In retrospect, Fr Bactol was to surmount the following risks and threats:
| | | | | |
| --- | --- | --- | --- | --- |
| Year | The Challenge(s) | The Facts | The Milestones | Team Support |
| 1972 | Choice for Personal Advancement versus Service for God's people | Fr. Filomeno Bactol was due for Foreign studies at East-West Center, Hawaii | Fr. Bactol opted to stay and rebuild HCA and sacrificed to temporarily give up his aim for personal development | Bishop Manuel Salvador commissioned Fr Bactol to lead |
| 1973 | Fear for the Revocation of License for Academic Operation by the Government | HCA was rebuilt through the support of the Alumni | Sister Mechtilde Rudolph, OSB who was recalled to Germany continued to help for the fund resource acquisition to finance the HCA reconstruction | Atty Remigio A. Lauron, Carigara Mayor and HCA Alumnus supervised the rebuilding of HCA, assisted by Pablito Macalalag and Felix Lodero who were concurrently members of the HCA Faculty |
The 3-year stint of Fr Bactol briefly ended, however, the desire of the HCA ALUMNI association in partnership with the Palo Diocese to triumph above the vestiges of fire in 1972 paid-off and enrolment statistics astoundingly increased over the years.
Succeeding HCA Administration:
Bishop Cipriano Urgel invited the Religious Sisters of Mercy (RSM) to administer the school with the recall of Fr. Filomeno Bactol to Palo Sacred Heart Seminary as its Rector.
For nine (9) years the RSM operationalized the academy.
Date

Milestones

Administrators

Religious Organization

1975-1977

RSM Convent was constructed

Sister Maria Villegas

RSM

1977-1979

Improvements were made for :

Sr. M Mary Bernard

Sr. Socorro Rambuyon

RSM

1981-1984

St Martin De Porres Building,
St Mary Complex,
HCA School Library

Sr M Bernadine Tero, Philippine RSM Superior specially assigned Sr M Loyola Rodriguez
RSM
The Creation of the College:
The Palo Diocese took over again the HCA management in less than a decade with RSM congregation lacking in manpower to fully oversee the school needs.
Hence, in 1984 the Sisters of St. Francis of Perpertual Adoration (OSF) of Baybay, Leyte through its Regional Superior of the Immaculate Conception, Philippine Region, Sr Mary Paul Pfautsch agreed to sustain the HCA ascendancy.
In over 3 decades, the following OSF administrators strengthened the academy, viz:
| | | | |
| --- | --- | --- | --- |
| Date | Status and Milestones | Administrators | Religious Organization |
| 1984-1985 | 1st Designated Principal | Sr Agnes Lentejas | OSF |
| 1985-1989 | Parents & Teachers Association of HCA was organized | Sr. Rose Otic | OSF |
| 1989-1990 | Fixed assets were expanded, such | Sr. M. Corazon Amparo | OSF |
| 1990-1992 | as: covered walk, court, concrete stage, St. Joseph Building, Student Center, Rest rooms, TLE, Franciscan and Jubilee-(AVR Hall) Wings, desks and classrooms | Sr. M. Celine Ceniza | OSF |
| 1992-1997 | were acquired and built | Sr. M. Josela Truya | OSF |
Towards the end of the 19th century, HCA seized the opportunity to open the HCA tertiary level and additional college course programs that are responsive to the Labour Market demands for graduates, viz:
1995

HCA was named Holy Cross College of Carigara. College curricular programs were institutionalized

Registrar Juliana C. De Real

Consultant Sara Q. Caballes

Lay

1997-2000

Directress concurrent Principal

Consultant

Sr. M. Teresita Lopez

Sr. M. Denise Stolinski

OSF

2000-2003

Directress concurrent Principal and Dean of College.

Tertiary curricular offerings were opened:

Bachelor of Elem. Educ GR 02 S. 2001

Bachelor of Sec. Educ, Major in English, Filipino, Math & MAPEH GR 01 S. 2001

BS in Business Management Major in Financial Management, Marketing, Computer Management GR 16 S. 2001

BS in Computer Science GR 11 S. 2004

Sr. Mary Anthony Kuizon

OSF

2003-2006

Principal

Sr Mary Francis Dichosa

OSF

2006-2013

Directress concurrent Principal and Dean of College

Sr. Grace Gerong

OSF

2013-2016

Directress concurrent Principal and Dean of College

Sr. M. ida Porol

OSF

2016

Principal

Sr. Mary Francis Dichosa

OSF

2017

Principal and concurrent Designated Assistant to the SCHOOL Director/Head

Sr. M. Andrea Tomanda

OSF
The New Generation Leader(s)
In 2016, Palo Archdiocese through Archbishop John Du appointed Fr. Ric Marpa, the incumbent Superintendent of the Archdiocese Schools and Colleges to head and oversee the HCC governance.
The Archdiocese intends to fortify the College to be the Catholic Center of Academic stewardship in the eastern part of the Philippines as the school marches towards the 75th Celebration from inception in 2020 and the 500th – year Catholic Centennial Celebration of Catholicism in the Philippines as introduced by Spanish colonizers in 2021.
The Archdiocese envisions to further prepare and shape the HCC graduates to be globally competitive world-class citizens and entrepreneurs in the millennial work arena.
For 2018, the school leadership gears-up to partner with all the stakeholders of the community and society to accelerate its performance and realize its over-arching goal of professional excellence capacitating its human resource internally and its ministry, externally.
This team-spirit shall be the core-value of its governance on the 1st quarter of the 20th century for HCC.